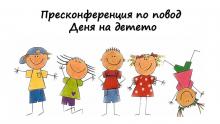 On June 1, 2023, at 11:00 a.m., a Joint Press Conference of the National Statistical Institute and UNICEF - Bulgaria will be held in the NSI building at 2 Panayot Volov Str. in Sofia.
At the Press Conference, the new publication of NSI "Children of Bulgaria", 2022 and the Regional Report of UNICEF "The Situation of Children in Europe and Central Asia" will be presented.
The event will be attended by Mrs Christina de Bruin - UNICEF Representative for Bulgaria, and Assoc. Prof. Atanas Atanasov, PhD - President of the NSI.