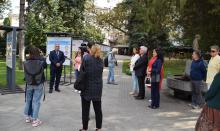 The outdoor exhibition "Transforming Our World. Sustainable Development Goals 2030" is the latest initiative of the National Statistical Institute, which was opened on 2nd October in the "Crystal" garden in Sofia. The exhibition is a joint initiative of NSI and Sofia Municipality and can be visited from 2nd to 16th October.
The exposition includes 14 original information panels in Bulgarian and English presenting the 17 sustainable development goals included in the 2030 Un Agenda. Until 25th October 2023, any visitor can submit a photo from the exhibition and participate in a lottery with prizes, as well as in a special quiz "Scan and Win". The winners will be announced on 30th October.
What are the sustainable development goals and why are they so important to us? The residents and guests of the capital will learn that the UN and national governments are committed to ending poverty, preventing hunger, promoting good health and well-being, providing access to quality education, access to clean drinking water, providing affordable and clean energy, stable infrastructure, protecting the oceans, restoring land ecosystems, and establishing peace among societies.
"The implementation of the UN 2030 Agenda is a global process in which many governments including the European Union are involved. The SDGs provide us with the framework for the national development policies and their achievement will actually lead to an increase in the well-being of Bulgarian citizens, improvement of health care and education, to the creation of a sustainable living environment, and a better outlook on life as the whole", said the President of the National Statistical Institute Assoc. Prof. Atanas Atanasov, PhD at the opening of the exhibition. The event was attended by the Chairperson of the National Statistical Council Assoc. Prof. Ekaterina Tosheva, PhD, Vanya Grigorova - member of the National Statistical Council, Dimitar Manolov - President of Confederation Of Labour "Podkrepa" and other guests.