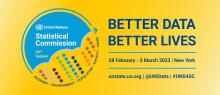 The NSI President Assoc. Prof. Atanas Atanasov, PhD, participated in the 54th Session of the UN Statistical Commission (UNSC), which was held in New York from 28th February to 3rd March 2023. During the meeting, the reports of working groups in various fields were discussed and decisions were taken as follows on:
Data and indicators for the 2030 Agenda for Sustainable Development;
Social statistics;
Household surveys;
Economic statistics;
National accounts;
Business and trade statistics;
Regional statistical development;
Environmental-economic accounting;
Fundamental Principles of Official Statistics;
International statistical classifications;
Statistical capacity development;
Working methods of the Statistical Commission;
National quality assurance frameworks;
Big data.
Price statistics;
Integration of statistical and geospatial information;
Data stewardship;
Crime and criminal justice statistics;
Refugee, internally displaced persons and statelessness statistics.
The UNSC agenda included also a number of side events: special seminar on innovations in the official statistics, register-based population censuses, modernization of household surveys, usage of data by citizens and the role of data science. The meeting for capacity building for big data through the regional hubs and the high-level forum for statistics beyond GDP were also of interest.
The UNSC meets and works once a year, with sessions lasting four days and taking place eight weeks before the session of the UN Economic and Social Council.
UNSC assists the Council in promoting the development of national statistics and improving their comparability; in coordinating the statistical work of specialized agencies; in the development of the statistical services of the Secretariat; in advising UN bodies on issues related to the collection, analysis and dissemination of statistical information; in promoting the improvement of statistics and statistical methods in general.
The Commission submits to the Economic and Social Council of the United Nations a report for each of its sessions, containing an account of the work and actions taken on each agenda item. It can present to the Council in the form of draft resolutions, recommendations to the UN member states, the Secretary General or the specialized agencies.