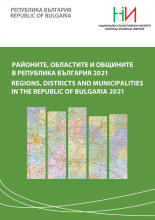 The National Statistical Institute offers to the users who are interesting in regional statistics the specialized electronic publication 'Regions, districts and municipalities in the Republic of Bulgaria 2021'.
The publication contains data about the demographic and socio-economic conditions and environment of Bulgaria's regions, districts and municipalities in 2021. The most important indicators have been chosen in order to reveal the specifics of the administrative-territorial and territorial units. According to the Classification of Territorial Units for Statistics in Bulgaria the territory of the country is divided into two statistical zones that correspond to NUTS 1 level of Eurostat NUTS classification - Severna i Yugoiztochna Bulgaria and Yugozapadna i Yuzhna tsentralna Bulgaria. They are aggregated of 6 statistical regions that correspond to the NUTS 2 level. The statistical regions, on their side, are aggregated of the 28 districts that correspond to the NUTS 3 level of the NUTS classification.
The published information is addressed primarily to researchers in the field of regional development and planning. It can also be used by a wide  range of users.
The publication is published on the NSI website.