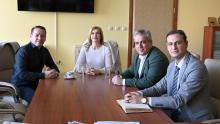 The President of the National Statistical Institute Assoc. Prof. Atanas Atanasov, PhD met with the Chairman of the Management Board of the Union for Private Economic Enterprise Vaska Baklarova.
The meeting was also attended by Svilen Kolev, PhD – NSI Deputy President and Assoc. Prof. Noncho Dimitrov from UPEE.
During the conversation, opportunities for cooperation and future joint projects were discussed. Both sides agreed that concluding a cooperation agreement would be a new step in joint activities.
Assoc. Prof. Atanasov introduced the guests to the report from the Eurostat Peer Review on compliance with the Code of European Statistical Practice, which was of interest to them. The  NSI President drew attention to one of the recommendations for the establishment of a consultative body with business associations to resolve current issues and actions to address the respondent burden on business. The representatives of UPEE gladly agreed to participate.
The meeting with the Union for Private Economic Enterprise is part of the series of familiarization talks of Associate Professor Atanas Atanasov, PhD with the social partners. Already in the first days of his mandate, the NSI President sent invitations to meetings to all nationally representative employer and trade union organizations.