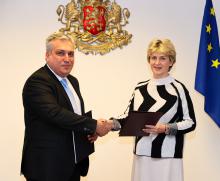 The President of the National Statistical Institute Assoc. Prof. Atanas Atanasov, PhD and the Minister of Youth and Sports Vesela Lecheva signed an Agreement on cooperation and strategic partnership in the exchange of information. The document regulates the provision of statistical data by the NSI and the information systems of the MYS, metadata and methodologies, as well as the possibility of conducting additional statistical research and ensuring access of the NSI to the information systems and registers of the MYS in accordance with the Law on Statistics.
The Deputy President of the NSI Assoc. Prof. Mihail Konchev, PhD and Deputy Ministers Petar Georgiev and Petar Buchkov attended the event. The two parties discussed the need for information covering the sports infrastructure and its state, as well as an analysis of the population and its physical activity needs.
'We are starting a fertile cooperation. NSI has a significant database from the completed population Census in Bulgaria and can conduct exhaustive research of topics affecting the sphere of sports and youth', said the NSI President Atanas Atanasov at the signing of the agreement.
During the meeting, Minister Lecheva emphasized the necessity for information about the population's needs for physical activity, as well as about the sports infrastructure in the country and its state. She said that at this moment, there is a lack of recent data and it is not possible to make a real assessment of either the sports facilities or the physical training of Bulgarians.
In response, Prof. Atanasov assured that the data from Census 2021 will largely fill the lack of information about people's activity, and NSI will help the ministry to map the sports facilities in the country, as well as to establish a model for tracking people's physical activity.
The agreement signed today is the basis for more effective cooperation, as it formulates the rights, obligations and coordination between the two institutions in the collection, production and dissemination of statistical information. Compliance with the basic principles of statistics, protection of data confidentiality and interaction with international organizations are regulated.
In the field of youth policies, the two institutions will explore the thematic areas of education, employment, health and well-being, equality and inclusion, young people from small settlements, awareness and digital skills, and youth organisations.
Both parties agreed that surveys are an important tool in making informed decisions and developing policies based on real and measurable indicators.