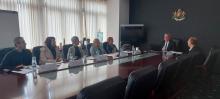 Experts from the statistical offices of Kosovo and Bosnia and Herzegovina are taking part in a 3-day visit to the Bulgarian National Statistical Institute within the framework of the 'IPA 2019 project Multinational Statistical Cooperation Program in Albania, Bosnia and Herzegovina, Kosovo, the Republic of North Macedonia, Montenegro, Serbia and Turkey for future EU membership'. The purpose of the visit is to provide methodological assistance in the calculation of consumer price indices and purchasing power parities.
The president of NSI Assoc. Prof. Atanas Atanasov, PhD opened the meeting with the experts. He drew attention to data on consumer price indices and purchasing power parities as a basis for economic research and policy analysis requiring comparison between countries. 'Through these data, the levels of welfare, consumption, investments, economic growth, general productivity are compared, or they are used as price measurement to compare price levels, price structures and competitiveness." - added Assoc. Prof. Atanasov.
The training envisages a comprehensive overview of the process of calculating data for Purchasing Power Parities - required resources, features of fieldwork, use of tools and data validation.