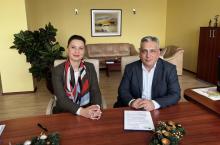 The President of the National Statistical Institute (NSI) Assoc. Prof. Atanas Atanasov, PhD, met the Vice President of the Bulgarian Industrial Association (BIA) Maria Mincheva and experts from BIA.
The reason for the meeting is the possibilities for optimal cooperation between NSI and BIA. Those present discussed the possibility of NSI providing data, and experts from the Association preparing analytical materials. The analyses will be different in scope, with direct relevance to the Bulgarian business environment.
Among the topics discussed was the need to integrate all administrative registers - a topic that both NSI and BIA have repeatedly raised, as well as the relevance of data on the implementation of the European Directive on the minimum wage, as well as those related to sustainability goals.
As a next step, the two sides are expected to sign a memorandum of cooperation.