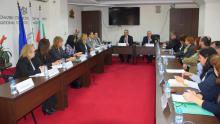 The National Statistical Council unanimously adopted the Report on implementation of the National Statistical Programme and the activity of the NSI in 2022 and the National Statistical Program for 2023 at its present meeting.
The members of the Council asked the President of the NSI about the financial and personnel provision of the institute, to which he replied that the designated budget was definitely not sufficient for full-fledged work. 'The alimony has not been changed for years, we have been denied any additional funds for 2022. We have been forced to stop even business trips for important international meetings, and this is a huge problem for us and may even lead to sanctions for the country.'- Prof. Atanasov added. The Deputy President of the NSI, Mrs. Diana Yancheva, pointed out that after the Peer Review of the National Statistical System, held in the spring of this year, the members of the expert team from Eurostat gave a recommendation to the Bulgarian government for better resource provision, including financial provision for the NSI's activities.
In connection with the discussion, the Chairperson of the NSC, Prof. Stoyan Tsvetkov, proposed that the Report for 2022 shall be supplemented with these findings and recommendations, because of their extreme importance for the future work of the NSI.
Some changes were adopted in the Rules on the National Statistical Council Activity at the meeting, Assoc. Dr. Ekaterina Tosheva, Professor of Statistics at UNWE - Sofia, was elected as the secretary of the Council.
Mrs. Diana Yancheva introduced the attendees to the Peer review Report - the progress of Bulgarian statistics concerning the European Statistics Code of Practice and the 22 recommendations that the members of the expert team made to the National Statistical System of Bulgaria in the last item on the agenda.
The Council decided that the next meeting will be held at the beginning of 2023, as it will be dedicated to the recommendations of the Peer review and their implementation.