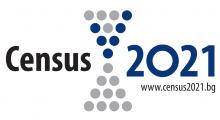 The National Statistical Institute starts two control surveys for Census 2021. More than 400 experts who work at the NSI statistical departments throughout the country will make rounds of 14 000 dwellings and will interview the households living therein. It is a random sample and the surveys will last until 31st October 2021.
The first survey aims at finding the accuracy of population and dwellings data entered into the questionnaires and finding the size of the errors made. The second survey is related to the scope of the population in the country as it is aimed at finding the relative share of the non-counted (missed) and double-counted (doubled) persons by counting.
The main sources of errors to be avoided in the following population and housing censuses will be identified based on the control surveys data.
According to preliminary data 5 775 000 people were counted by the end of the day on 10th October, out of whom 3 370 000 people were counted by paper questionnaires, and 2 405 000 people got counted electronically. By the end of this week is the deadline for the enumerators to submit their questionnaires and the summarized data of the census sections where they had worked, which means that the number of the people counted by paper will be increasing every day.
The first preliminary results for Bulgaria's population will be announced at the end of 2021.