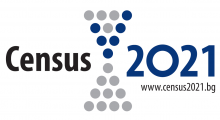 20 help centres where NSI experts assist people to get counted function throughout the country. Everyone who wants to get counted electronically, but cannot do it on themselves at home, can visit such a centre. There they will be provided with a tablet or computer to do it and all their questions will be answered. People who want to be counted by a paper questionnaire but do not want to wait for the enumerator at home, are also welcome. You can see the addresses of the help centres here and most of them work also at weekends.
For ten days, since the opening of the help centre at the NSI building so far, therein only, 511 people have been counted. As to 6 a.m. today 2 036 627 people living in 893 250 households throughout the country got counted electronically.
Women are more active in completing the electronic questionnaire. The greatest number of registrations is made by people of ages 40 to 49 years as 60% of them are by women. The group of ages 30 to 39 years follows and the third place is for the age group of 50 to 59 years.