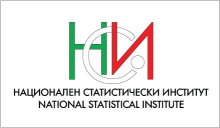 In October 2018, the National Statistical Institute will conduct a pilot study 'Violence against Women and Men'.
The survey is in the framework of the project 'Testing and piloting survey on Gender Based Violence' under a grant agreement with the European Commission № 07143.2017.001-2017.679 (РД-10-20/22.11.2017 г.).
The survey is included in the National Statistical Program, approved by the Council of Ministers Decision No. 9 of January 11, 2018, regulating the deadlines for carrying out the statistical surveys and the obligations of the respondents for the provision of the data.
The purpose of the study is to test the methodology of the survey and its harmonized questionnaire with a view to its future introduction into the statistical practice of all EU Member States. All requirements of European and national legislation, as well as the methodological documents recommended or developed by Eurostat, in the field of household surveys and in the area of violence, will be strictly followed during the project implementation.
For the purposes of the pilot survey, a sample of 504 households in 6 districts in the country - Vratsa, Pleven, Stara Zagora, Burgas, Dobrich and Targovishte - has been selected completely randomly. The interviewed households will be visited in October 2018 by specially trained interviewers, experts in the relevant field from the Statistical Research Offices, for conducting personal interviews and completing the questionnaires. Only one person aged 18 years and over will be surveyed in each selected household, and his choice is again random. The Kish grid will be aplied as a method for the respondent's selection in the choosed households.
There is also an opportunity for self-interviewing of the respondents by filling in the questionnaire in a web-based application.
The results of the pilot survey will contribute to the proper shaping of EU and country policies in the field of human rights and the fight against violence and criminality.
We thank the households for the cooperation and assistance in advance!
More information about the pilot survey and the participation of respondents in it can be obtained from the experts of the NSI's Health and Justice Statistics Department every working day from 9.00 am to 17.30 pm on telephone numbers: 02 98 57 459 and 02 98 57 592.