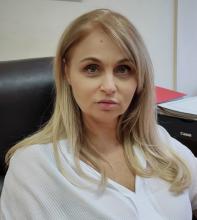 Kristina Zaharieva
Director of RSO - Yug
Date and place of birth: 21 May 1971, Plovdiv, Bulgaria
Holds Master's Degree in Economics, specialization Accounting and Auditing from Academy of Economics "Dimitar A. Tsenov" - Svishtov.
She is in the position of Director of the RSO – Yug since June, 2018.
She has been working in the RSO – Yug since 2011, holding the positions of chief accountant and head of the "General Administration" Department.
Until 2011, she worked at Maritsa Vegetable Crops Research Institute as a Senior expert.
Until 2007, she worked at "Vector Delta" EOOD, as a Chief accountant.
Speaks Russian and English.
 
Contact Information:
Address: 4006, Plovdiv, "St. Petersburg", bul., 59
Telephone: +359 32 658712