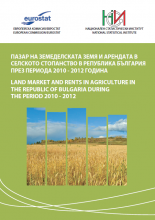 The National Statistical Institute presents to the users of statistical data the issue 'Land market and rents in agriculture in the Republic of Bulgaria during the period 2010-2012' on paper and electronic format. The issue is bilingual (Bulgarian/English).
The issue was prepared within the Grant agreement project between the European Commission (Eurostat) and the National Statistical Institute of the Republic of Bulgaria on 'Agricultural land prices and rents data collection system following the common target methodology'. The data were collected within the statistical study conducted on the entire national territory, which involved 1 640 respondents – agricultural holdings, land transaction societies, real estate agencies and real estate brokers.
The issue contains data about the number of agricultural land transactions, the size of purchased land and average price of 1 decar agricultural land. Data about the number of agricultural land lease contacts, the size of rented agricultural land and rental payment for 1 decar agricultural land are presented, too.
Data on agricultural land market and rents in agriculture refer to five main land use categories: arable land, orchard, vineyards, permanent grassland and agricultural land – total. Except by land use categories, the data are summarized in two groups according to the land productivity categories. The first group covers land from 1st to 5th categories, and the second one – from 6th to 10th.
Data are available for the next geographical levels: national level, statistical zones, statistical regions, districts and municipalities.
Under the terms of the contract between Eurostat and NSI, dissemination of the publication is free of charge.